Orbital Pad Floor Sander
---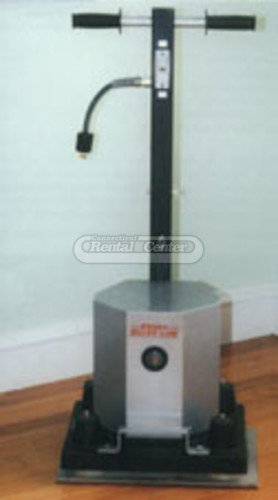 Orbital Sander:

Applications include:
Screening floors after sanding with the SL-8 & SL-7
Screen & recoating polyurethane floors
Wood deck sanding & refinishing
Parquet floor sanding & refinishing
New & pre-finished floor sanding & refinishing
NOTE: 12" x 18" Essex Silver line 1218thkw thick white pad MUST be used with this item to ensure proper use and outcomes.

Standard Equipment:
12" x 18" Orbital Polisher, 1hp, Cast Aluminum base with weight built into the chassis for low center of gravity, Sealed Baldor motor protected from dust, fan cooled, thermal overload on motor, Heavy Duty Rubber towers in four corners support the base & plate protecting the motor shaft and allowing for easier operation. Larger (5/8") orbital action, Armature has a 50lb pre-load to absorb shock and start easier.
Net Weight - 125 lbs.


If you need more information or are looking for other Floor & Building Maintenance rentals like this, contact Connecticut Rental Center or view our other Floor & Building Maintenance.