20 Watt Bullhorn
---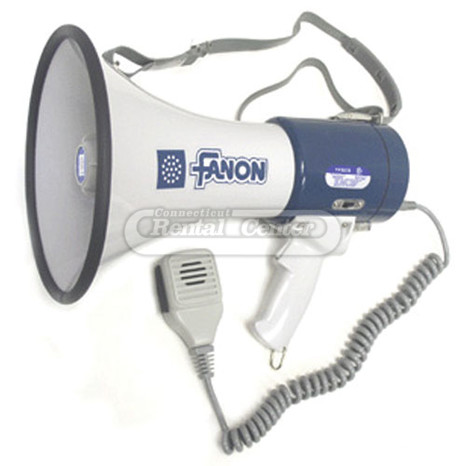 The Fanon Weatherproof mike hooks on to rear of the MV-20S
Bull Horn
for standard use. The MV-20S
Bullhorn
may be shoulder mounted with mike detached. Coiled cord and talk switch on mike for hand-held use. Solid state amplifier has a signal alarm for warning alert, fog horn, or "mayday".
Power output: 25 W. peak - 20 W. rated
Battery Powered
Dynamic mike on coiled cord with talk switch
Hand & shoulder straps
Uses Class B push-pull circuit
Pistol-grip talk switch
Signal alarm switch
Bell diameter: 9 1/2", length: 15"
Shipping weight: 7 lbs.
If you need more information or are looking for other Audio Visual rentals like this, contact Connecticut Rental Center or view our other Audio Visual.