Battery Powered Taper Candle
---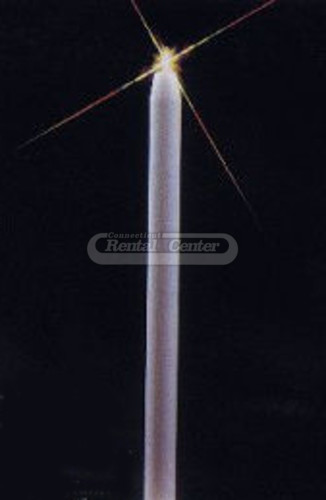 THE SAFE, ECONOMICAL, ELEGANT alternative to "ordinary" wax taper candles.
BATTERY OPERATED CANDLES (Batteries not included)
Up to 10 hours of candle light on 2 inexpensive "AA" carbon-zinc batteries.
Up to 40 hours of candle light on 2 "AA" alkaline batteries.
Available in 3/4" diameter x 18" lengths.
Fit in most standard candle holders.
They won't drip, won't wilt and won't burn down.
Battery operated candles are ideal for:
Difficult outdoor candle light decorating.
Areas where the use of open flames is restricted by local fire codes.
When the occasion calls for the elegance of candle light, but the use of an open flame is restricted, we proudly offer an efficient and economical answer.
If you need more information or are looking for other Candles rentals like this, contact Connecticut Rental Center or view our other Candles.