20 x 20 Self Install Canopy Tents
---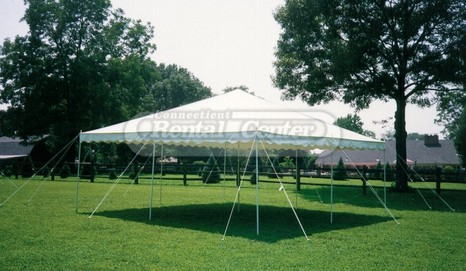 This 20 x 20 self install Canopy can be picked up at our store. It comes in three bags and fits into most vehicles. The tent is easily set up by two to three people in about 45 minutes to an hour. It has 1 - 3 piece center pole. The tent can only be setup on grass as it has to be staked down. The stakes come out about 7-8 feet from the tent. Solid sides are an option for this tent at an additional cost.
Please Note: This is not a frame tent. There is a center pole in middle of structure and it must be staked down.
If you need more information or are looking for other Party Canopies rentals like this, contact Connecticut Rental Center or view our other Party Canopies.