Black Birdcage
---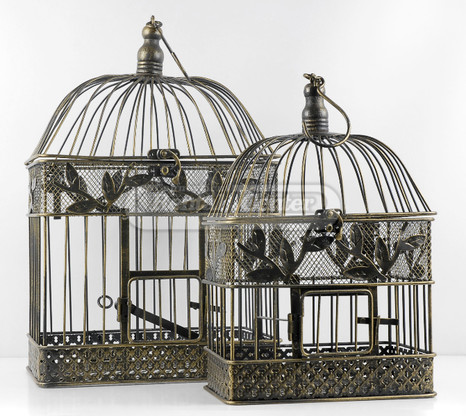 With an underlying tint of gold, these decorative birdcages are the perfect home for cards, small ornaments, candle displays, or small bouquets. To add delicate glamour to the Black Bird Cages, garnish with wide ribbons and bows. These pieces can be hung as an indoor or outdoor accent, or be used as standing containers for cards, small gifts, or notes at a wedding reception. For more information about our birdcage rentals in CT, Contact CT Rental Center Today.
Large Cage: 17" tall, 11.5" wide, and 8.5" deep.
Smaller Cage: 13" tall, 9" wide, and 6.5" deep.
The tops are removable, and each has a latched door.
The card slot measures 1" across and 5.75" tall.
If you need more information or are looking for other Wedding & Shower Accessories rentals like this, contact Connecticut Rental Center or view our other Wedding & Shower Accessories.