4' Portable Bar (Front View)
---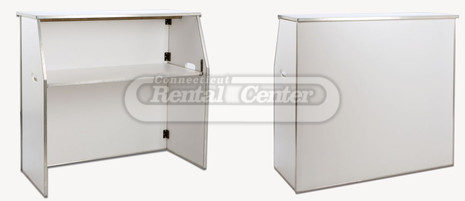 If you're looking for a Rental Bar for your next event, CT Rental Center offers a great selection of Portable Bar Rentals in CT. Whether you're looking for a bar with or without skirting, Connecticut Rental Center can accomodate your needs.
This White Portable Bar is free standing and collapsible. The front section of our portable bars are set up in a tri-fold manner and have have middle table sections which easily slide into place, providing support and storage. Serve your guests their beverages in style with a Portable Bar Rental from CT Rental Center.
If you need more information or are looking for other Bars rentals like this, contact Connecticut Rental Center or view our other Bars.